Taking control of debt
Facing money troubles? You're not alone. It may seem overwhelming, but there's always a way out with a plan and a little help. In this guide, we'll give you the steps and support you need to get back on track.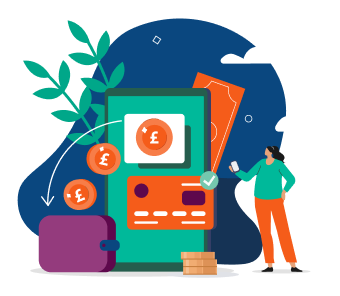 Realising you are in debt
What it is, why you shouldn't ignore it and how to recover.
Every day, thousands of people seek support for their money problems. From overspending, to unexpected life events or the cost of living crisis – debt can creep up on us.
When it becomes a struggle to meet day-to-day payments, it's time to take action before things get worse.
The first step is acknowledging the problem. It might seem uncomfortable, but ignoring debt won't make it go away. Take control by responding to creditor letters or calls, you'll find that many creditors will consider arrangements if you're open and honest.
Your credit score and history are based on your own finances and debt, but be mindful of who you're linked with financially. Things like joint accounts can impact your ability to get credit, but won't affect your credit score directly. 
There are several debt management solutions out there, let's explore them:
Debt Management Plan, or Debt Arrangement Scheme in Scotland: an informal agreement to reduce monthly payments and manage arrears
Debt Relief Order (DRO): here you can write off debts under £20,000. It's like bankruptcy, but cheaper
Individual Voluntary Arrangement (IVA), or Protected Trust Deed in Scotland: a court-approved repayment plan for debts
Bankruptcy, or Sequestration/MAP Bankruptcy in Scotland: typically a year-long legal status that affects credit for six years, cancelling most debts with assets and excess income to repay creditors
You're not alone. More than 16% of UK adults are dealing with problem debt
– The Money and Pensions Service
Steps to stay ahead
Take the lead and stay on top of your finances with these helpful tips.
Set a three-month timeframe and track all your spending honestly, using notes and receipts. Group spending types into categories to help prioritise needs over wants, and use our helpful budget planner to stay ahead.
Create a budget to better meet your needs, cut spending and save money. Align your bill payments with payday, or switch to a cheaper provider. And see just how much the little extras cost with Money Saving Expert's The Demotivator tool.
If you're working, speak to your line manager or browse your intranet for internal support.
Or seek help from trusted charities like StepChange for informal guidance on clearing debt. They offer advice on government relief schemes, bankruptcy, equity release, mortgages and debt management solutions. If you're in a regulated role, speak to your line manager or HR first to make sure any advice you seek won't impact you.
Focus on priority debts like rent, mortgage or bills to avoid penalties or legal action. And don't take on any more debt while you're figuring things out – it'll only make things worse.
Have a conversation to try and lower your payments. You can request temporary or permanent reductions, or explore payment holiday options. Find out how here.
Local food banks can help with food supply and advice, including vouchers for emergency food.
Grants can help with energy costs. Find out if you're eligible here and get free cost-saving advice like switching suppliers or improving energy efficiency at home.
Overwhelming debt can affect your physical and mental health. Speak to friends and family for support and to help better manage stress. Let's find out how.
Other helpful guides and resources